~from Founder, Evan Jacobs:
I'm happy to announce the availability of this widget in the new Author Tools area of the website. There are instructions there for adding the widget to your blog or website. It even works for blogs that are hosted on WordPress.com!

Here are some other highlights:

As a result of the easier request process, readers are requesting 40% more Authorgraphs than last month.
Authors are adding 200% more books thanks to making the "Add your books!" link more prominent.
Readers have indicated that they use a wide variety of reading devices and apps. Authorgraph makes it easy to connect to all of them!

Regards,

Evan Jacobs, Founder
http://www.authorgraph.com

P.S. Authorgraph now has a Facebook page!
Ok.  I'm game.  Let's give the widget a shot…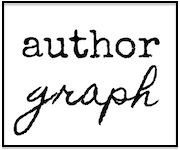 That should give you a quick button request for an Authorgraph.  If you'd like an autographed/personally inscribed page IN the ebook, look for the Autography links on the Buy the Books page.